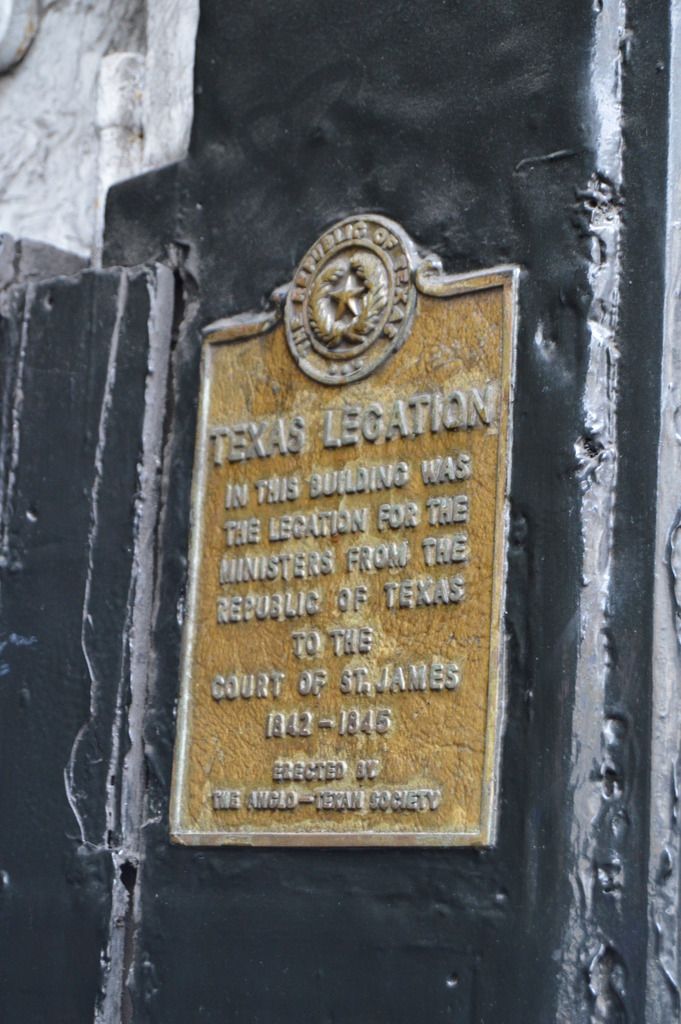 What a day it was! Extraordinarily hectic, we began by walking down to Glouster Street Station to purchase Oyster cards so we could take the bus into the city with our tour director and his walking group. We went through St. James's and then down Picadilly, where the group split up.
Mother, the Minion, and I browsed Hatchard's, the oldest bookshop in London, then popped down to spend a solid hour in Fortnum & Mason, stockpiling tea, biscuits, and handkerchiefs. It's a beautiful building, with not a detail overlooked. Marble, polished granite, dark wood, gleaming brass, friendly and polite attendants. It was lovely. I enjoyed it much more than I did Harrods. Harrods felt like consumerism – expensive so that its patrons could be seen spending money. Fortnum's felt like materialism – expensive because everything they stock is made well and made to last.
We returned our purchases to the hotel via the Tube, which terrified the Mother and delighted the Minion. We survived the ordeal, though. For a system built beneath an ancient city while preserving as much of the surface as possible, it was as logical as one could hope. Memorizing all the routes would take years, but the maps made sense, and we did not board a wrong train all day. At any rate, we all felt absurdly competent when we made it back to Glouster Street in one piece.
Then back underground and to Baker Street.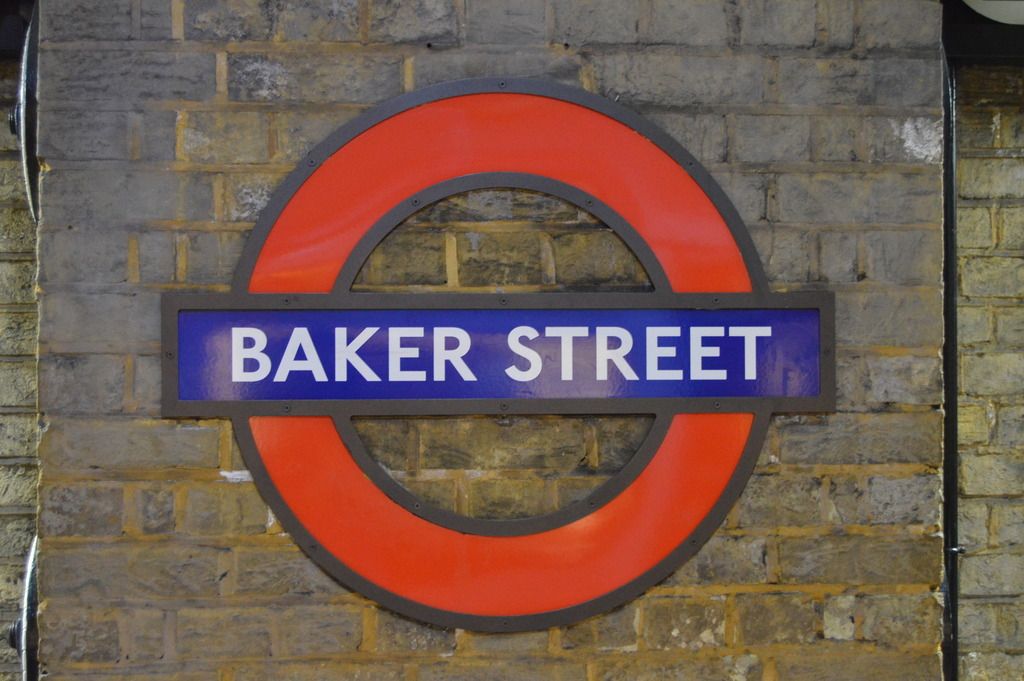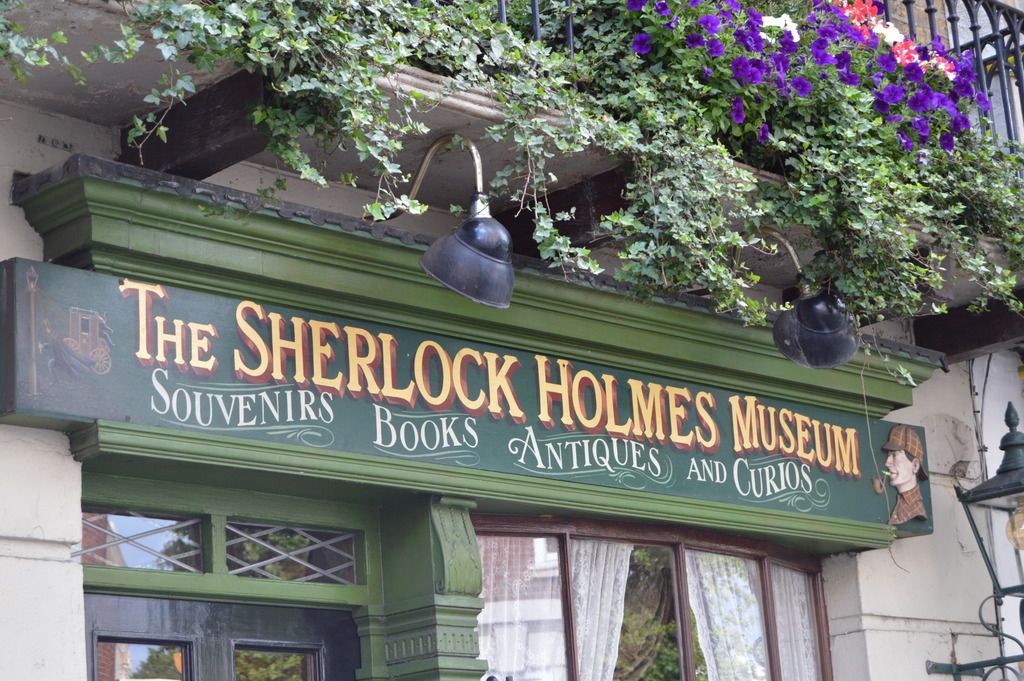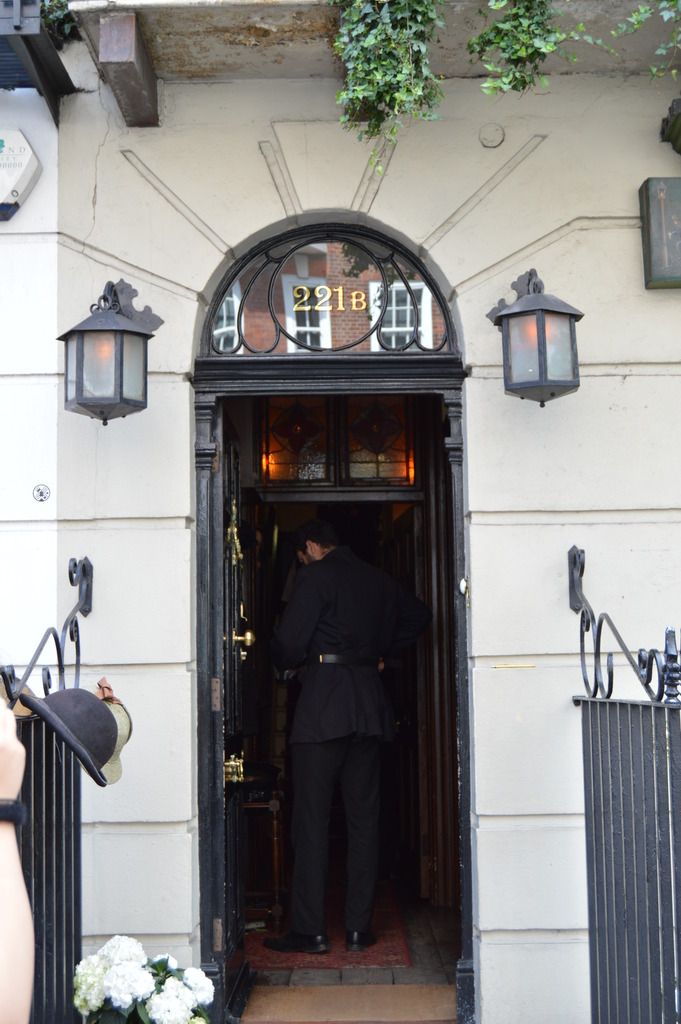 There was a line for the museum – at least a hundred people. I think we waited about forty-five minutes, far, far longer than the last time I was there. They let in about twenty people at a time. It was absolutely worth it. I, amazingly, didn't remember it anywhere near as well as I thought I did, though I suspect they have made some changes in the sixteen years since I was there last. The shop was on the ground floor, as were the staff offices, which had used to be Mrs. Hudson's Restaurant. I was disappointed that the restaurant was not still in business but not crushed, as we had very good pub food the night previously. The first floor was the sitting room and Holmes's bedroom, complete with Persian slipper, odoriferous experiments, "VR" in bulletpocks on the wall, violin, and correspondence affixed to the mantel by knifepoint. Some details were off – like the big, heavy calabash pipe on the table, instead of a dirty clay or battered old briar. And his catalogue seemed to be missing, although I suppose he would have taken that with him to Sussex.
The second floor ought to have been Watson's and Mrs. Hudson's rooms, but it has been made into exhibits – bits and bobs in glass cases with notes on how each object relates to a particular case. there was also a magnificent bronze bust of Holmes, with which, of course, I had my photograph taken.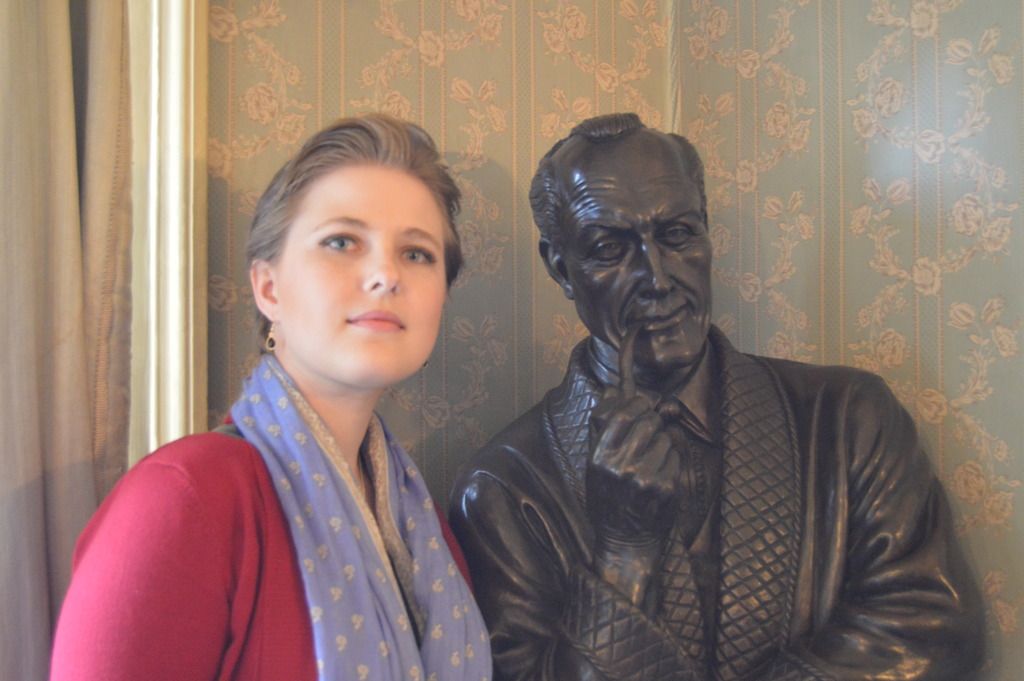 The third floor was also  exhibits: sort of horrifying tableaux with posed mannequins reenacting scenes from the Adventures. And at the very top was a tiny little washroom and a pile of travel trunks.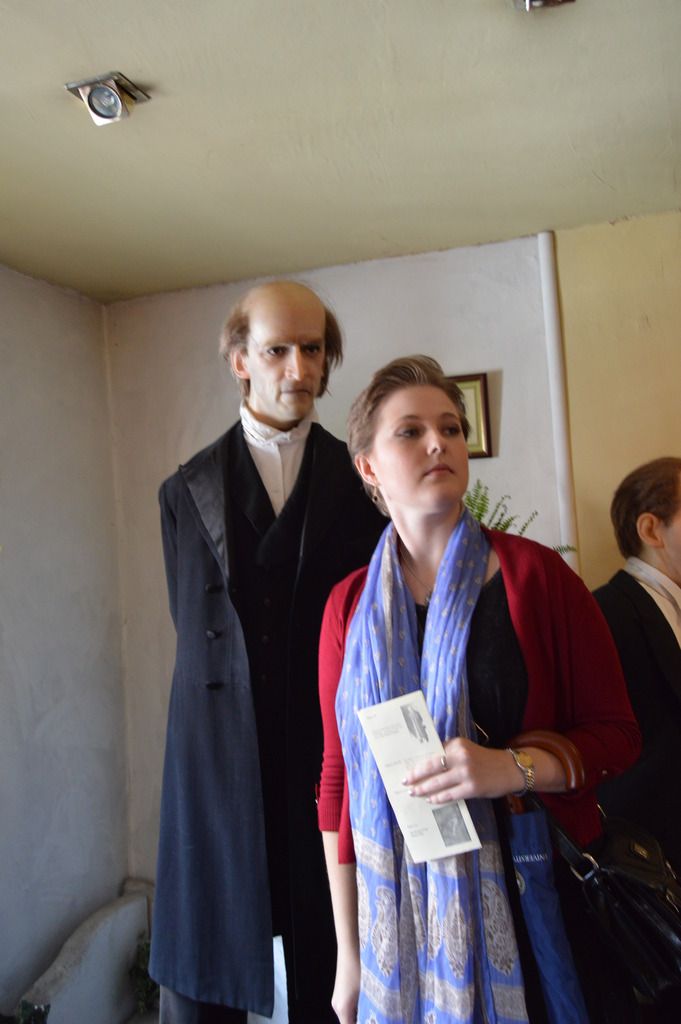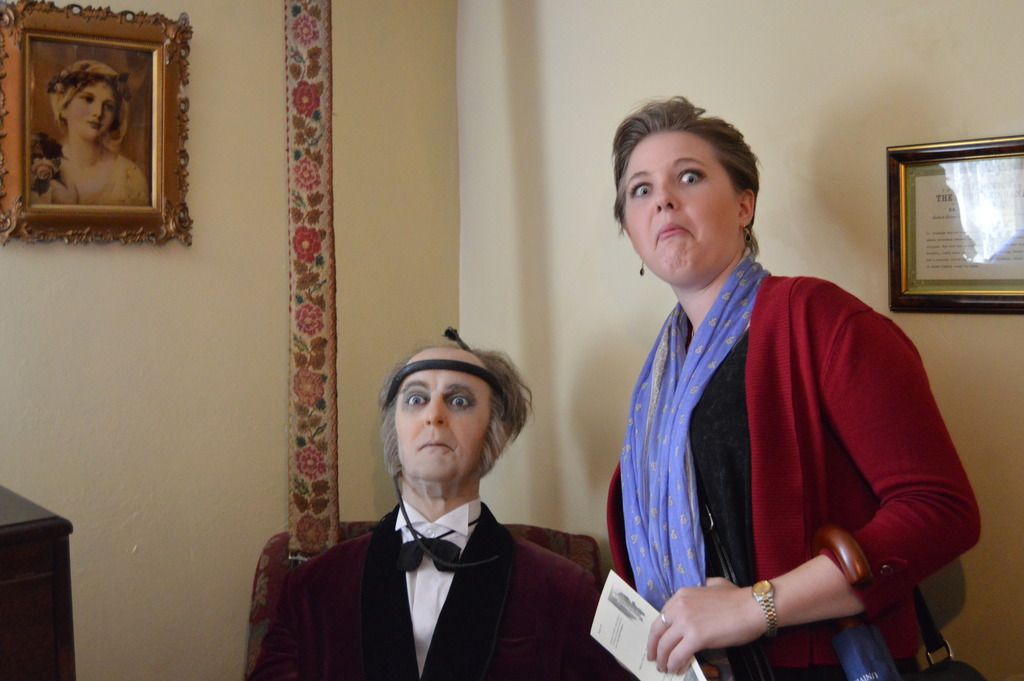 We came back down, did some shopping, and made our purchases.
From the Sherlock Holmes Museum we caught the Tube to the British Museum. Unfortunately, we were under the impression that it closed a good half hour after it actually did, and so we only had an opportunity to see one  hall – African art, downstairs. We caught a couple of cases of Babylonian artifacts before the docent kicked us out. That was really a terrible disappointment. I wanted to cover at least Classical antiquities and Egypt. Next time, I suppose.
Dejected, we wandered out of the museum and in search of food, and we found a very good little Italian place only about a block away.
Another Tube ride to North Gower Street, where parts of Sherlock were filmed. The Minion straightened the ever-cockeyed doorknocker… which was awkward, as I think it is actually the door to somebody's house. Oh, well.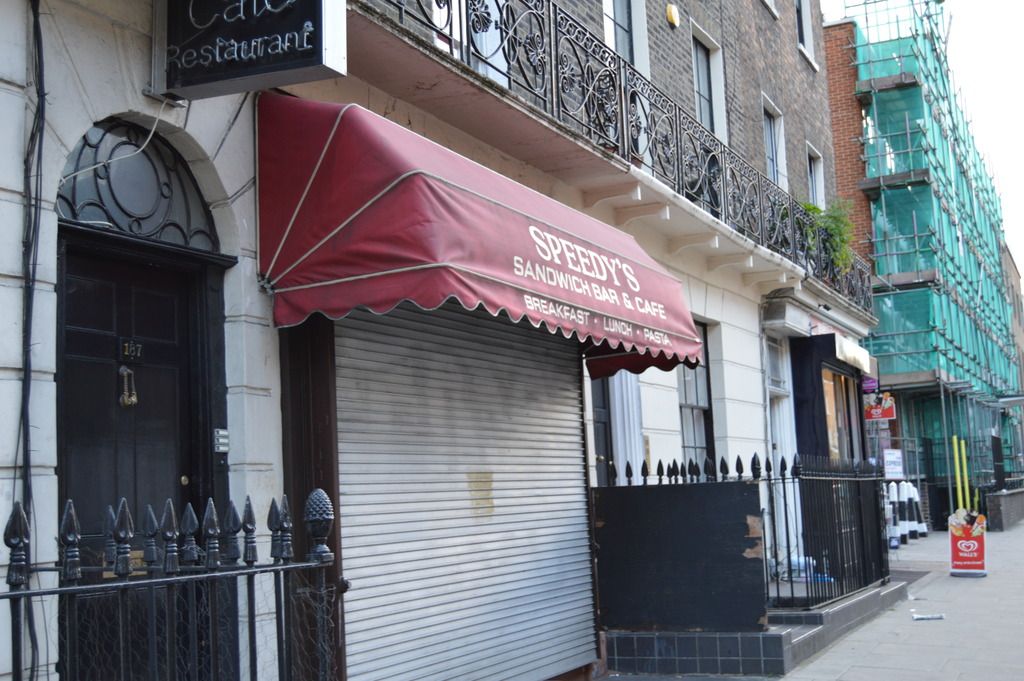 And we finished the day with one last ride to Westminster, emerging directly beneath the clock tower, crossed Westminster Bridge, and boarded the Eye in time to see the sun set on London. By the time we had returned to earth, we were exhausted.